[ I See You ]Ten-year-old Justin Whitter is abducted while riding his bicycle through a local park. Greg Harper is made lead detective on the case.
Evidence in the form of a green pocket knife is found connecting this case to a previous series of abductions which resulted in the conviction of another man many years prior. Harper's family is shown to be going through its own troubles based on an affair his wife, Jackie, had been engaged in. Their son, Connor, is very resentful toward his mother because of the affair.
Mysterious events begin plaguing the house; all the silverware goes missing, several pictures are removed from their frames, Jackie's favorite coffee mug goes missing, and a window repairman is let in by someone inside the house while the family is away. Jackie goes into Connor's room to pick up one night, and notices a strange mask under his bed. She doesn't ask about it.
One day, Jackie's former lover, Todd, arrives at the house, and while Jackie is telling him she can't see him anymore, Jackie's coffee mug comes from somewhere and strikes him on the head.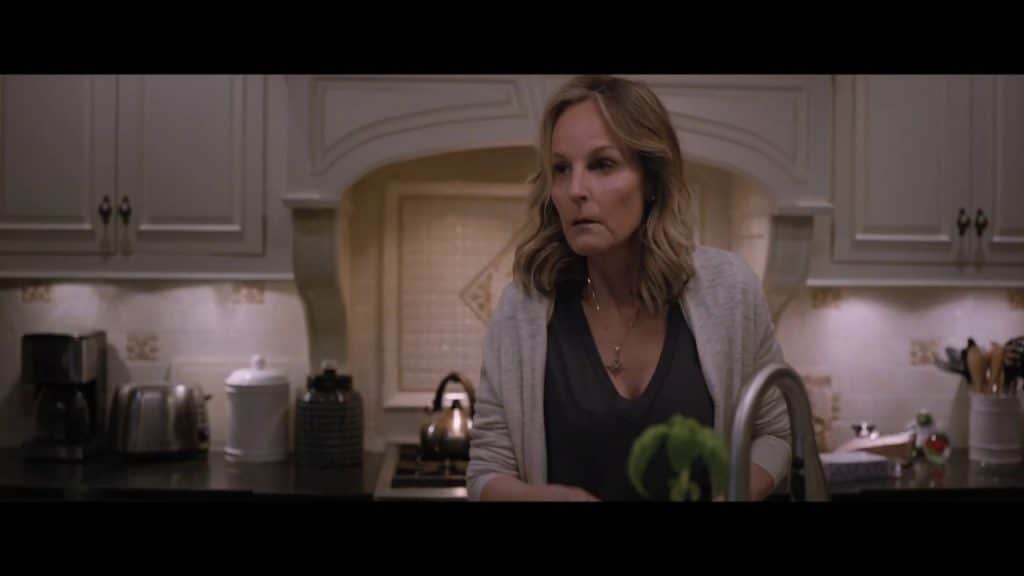 Jackie hides him in the basement so she can take Connor to school. While looking around the basement, Todd is hit over the head by an unknown assailant and Jackie comes home to find him dead. She panics and assumes that Connor has killed Todd. She and Greg take the body to a wooded area and bury his body, hoping to give Connor an alibi.
While Connor is on the computer, someone sends him a link to a video of someone walking around his own house. We see someone wearing the strange mask in the doorway to his room. Greg and Jackie return home to find Connor tied up in the bathtub with a green pocket knife nearby. Jackie drives Connor to the hospital while Greg searches the house and is attacked with an ax by the frog-masked figure.
The film then jumps back in time and reveals that the mysterious happenings in the house are caused by two people, Mindy and Alec, who have been "phrogging," hiding in a house unbeknownst to the owners, in the Harper home. Mindy, an experienced phrogger, tries to keep a very low profile so that she never gets caught, while novice phrogger Alec decides he wants to make the family believe they are going insane.
Every mysterious occurrence in the film is shown to have been caused by Alec, including the missing silverware and Todd's incapacitation. However, while Todd is in the basement, Mindy witnesses Greg killing him. She goes to alert Alec, only to see him putting Connor in the bathtub. She argues with Alec, who mistakenly pushes her down the stairs and knocks her out. Alec hides her in Greg's car.
Greg and Jackie return and find Connor in the bathtub, Jackie takes him to the hospital. After Jackie leaves, Greg takes his own car, unknowingly taking Mindy with him.
Mindy awakens in the car and when she finds a bag of green pocket knives and Justin Whitter's shirt, realizes that Greg is the kidnapper. When Greg parks the car in the forest, Mindy sneaks out of the car and calls 911, but doesn't have good enough reception for them to hear her.
Mindy finds an old trailer with all the abducted children trapped in makeshift closets. As Mindy tries to free them, Greg ambushes her and takes her back to his house. He forces her to stand up before shooting her dead. Greg finally discovers Mindy and Alec's things in the attic room.
Alec gets Greg's attention with the record player and attacks him with the ax. Greg knocks Alec out, then stabs himself to make it appear that he's been attacked. Alec reappears holding Greg's gun and tells him he knows he's the kidnapper.
Greg recognizes Alec and attempts to explain himself, but Alec makes it clear he doesn't care and shoots and kills Greg. Greg's partner Spitzky arrives and seeing Alec holding the gun, shoots Alec. But when Alec says, "Detective Spitzky?" he recognizes him.
Spitzky finds the bag of evidence in Greg's trunk. The trapped boys are rescued from the trailer. Jackie and Connor arrive home to find their home swarming with police cars and ambulances.
Flashbacks are shown of a younger Alec and a friend encountering Greg, who hands Alec a green pocket knife, as the present-day Alec—obviously a previous victim of Greg's—is carried into an ambulance.